Sydney Any Occasions Mini Bus Hire
If you're after transport anywhere in Sydney we have a range of mini bus solutions to meet your needs.
With our Sydney Any Occasion Mini Bus Hire service, you can comfortably manage your trip anywhere in Sydney. Experience a hassle-free transportation with your beloved family members or friends in our state-of-the-art buses. While you are busy planning an event, leave your transportation worries to us.
Simply relax and enjoy your tour, while we take care of our journey!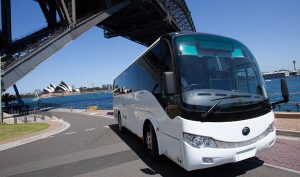 Experience You Can Trust…
We understand that travelling with your near and loved ones is an enriching experience, and so you need a reliable and comfortable travel plan that suits your group size. Be it a corporate event, school picnic, night out, wedding, or tour, our team of experienced and accredited drivers take care of your safe journey. Moreover, we believe in going that extra mile just to make your event a memorable one for years to come and that's why you should contact us for your next occasion. We have a range of mini bus hire solutions to suit your needs.
It could be that you're hosting friends from out of town and need transport. Or it could be that you are studying and it's orientation week. During orientation week everyone wants to get to the bars together. When you hire a minibus with us you can be sure that you will. Whether it's your first, second or third orientation week we will make it one to remember. You can simply sit back, get the party started and we'll sort the rest for you.
Contact us now if you're planning a trip anywhere in Sydney. We are eager to offer you an unforgettable travel experience for a lifetime. Our mini bus solutions are perfect for any occasion and you'll be wishing you'd known about our transport sooner.
344 total views, 2 views today